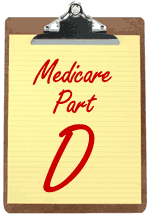 The annual Medicare Part D Prescription Plans Open Enrollment period starts and ends earlier this year. It will be from October 15 to December 7.
Open Enrollment is the one time each year when everyone with Medicare can enroll in a Part D prescription drug plan or Medicare Advantage plan for the first time, or switch to a different plan for 2012. Changes will be effective January 1, 2012.
Insurance companies that offer Medicare Part D and Medicare Advantage plans were required to send Annual Notice of Change packets to their members by September 30. These packets explain changes to a plan's benefits, drug list and costs for 2012. Some people were notified that their coverage will change in 2012 or that their plan has been discontinued. Others were told that they will automatically be moved into a different plan offered by the same company. For anyone who is not happy with their new plan, now is the time to make a change.
Medicare Part d Prescription Plans
• Make sure you received the Annual Notice of Change. If you did not, call your Medicare Part D plan right away and ask them to mail you one.
• Evaluate plans carefully, whether it's your existing plan or a new one you're considering. Look at the plan to be sure it covers the medications you need, and whether you can afford the premiums, deductibles and co-pays.
• Review the list of drugs (also called a formulary) that your plan pays for and make sure it covers your prescription drugs. The Annual Notice of Change packet should include a formulary of drugs your plan will cover next year. Call your plan if you did not receive a formulary with your packet or if your drugs are not listed.
• Plans change and so do individual health care needs. If changes to your existing plan are acceptable, you don't need to do anything. If not, you need to find a plan that better fits your needs.
• Don't wait until the last minute to enroll in a plan. Join as soon as possible to be sure everything is in place by January 1.
• Remember that the deadline for enrolling is earlier this year – December 7.
For information about qualifying and applying for these programs, call Health Insurance Services, Inc at (847)566-6250