Illinois Family Health Insurance
If you have a family, health insurance is an absolute necessity. Each year, with the invention of new medical technologies and medicines, the cost of medical services is rising. This means that finding an affordable family health insurance policy in Illinois is essential to protecting not only your family's physical health but also your financial health as well.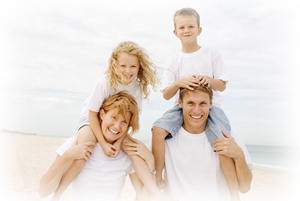 Taking care of your family is priority one, so why not have adequate health insurance coverage to protect them? Do you seem to spend more time at the hospital than most, or are your children in fabulously good health? Are you expecting a new baby, or are your children heading off to college? Does your place of employment provide enough Illinois famlily health insurance plan options to adequately cover your family?
Every household is different and finding the best family health insurance in Illinois to fit you and your family's lifestyle can be hard if you don't know where to look. You need an insurance plan that provides the lowest cost without sacrificing the premium healthcare you deserve. Families are in luck! There are so many options from Illinois health insurance companies you may not even know about. Take a moment to learn about all of the different options available to you and discover how you can provide the best in quality coverage for those you love most: your family.